Irish Dentistry Show 3rd Sept 2022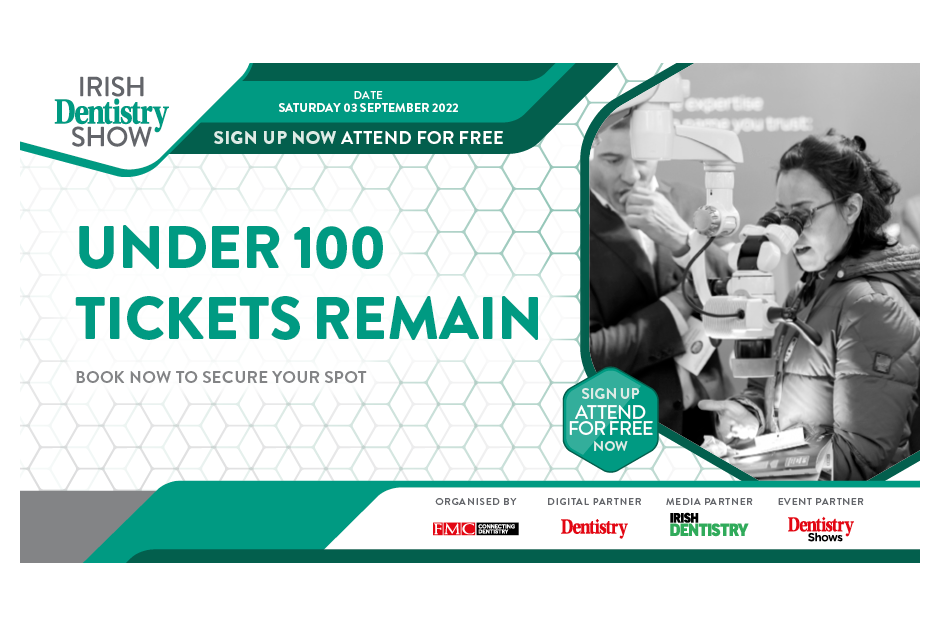 Click here for Full Event Details
Join us at the Irish Dentistry Show Saturday 3rd September 2022 | Croke Park Dublin
Lecture Theatre 1
Saturday 3 September 2022
10:00- 16:00
Lecture Theatre 1 at The Irish Dentistry Show will showcase a wide variety of leading clinical lectures aimed at Dentists with additional talks for Principals & Practice Managers interested in the business side of dentistry.
Advanced Minimum Intervention Restorative Dentistry – it's time to build back together!
10:00- 16:00
This presentation will outline the value and implementation processes to help advance your modern general dental practice in the post-pandemic era. By using the principles of minimum intervention oral care (MIOC) delivery and judicious use of the oral healthcare team members, contemporary prevention-based oral health delivery can be achieved, with sustainable practice business models and a holistic team-care approach to help maintain long term oral health in our patients across their life-course.
Paul Reaney
Changing lives with ……Dental Sleep Medicine
10:00- 16:00
Bronagh Keane
Smile Design
10:00- 16:00
The smile is the window to the soul providing our patients with the confidence to smile, speak and eat. Often unattractive smiles can be seen as aging, and there is a desire to rewind the clock. The smile doesn't end at the teeth, it is a balancing act of managing ratios, proportions and recognising the relationship of the teeth with the soft tissues and bone remodelling. As there is an influx of aesthetic procedures, these factors are overlooked resulting in lower patient satisfaction. Speaker biography Hi my name is Bronagh. I am a cosmetic dentist based in Dublin. My passion is smile makeovers. I love to provide patients with this new found confidence while simultaneously educating patients on their dental health. I completed my undergraduate degree in Trinity College Dublin, followed by smile makeover courses and postgraduate diplomas from RCSI. To provide a full smile makeover service, I furthered my education in facial aesthetics and am now in a postgraduate program for facial aesthetics in the City of London Dental School.
Shazad Saleem
The stepwise approach to managing periodontitis: An overview of the S3 guidelines for managing stages 1-3 periodontitis
10:00- 16:00
A look at the new S3 guidelines for treating stages 1-3 periodontitis and how this can be practically implemented into day-to-day practice within primary dental care using this evidence-based approach to managing the disease.
Rachel Derby
Enter the Multiverse: a journey from single tooth dentistry to multi tooth dentistry
10:00- 16:00
Do you feel stuck in a rut? Are you only ever working on one tooth at a time? Do you lack the confidence to discuss with the patient what they really need? Then this lecture can help. Join us on a journey that will inspire and transform your daily dentistry to help you manage bigger cases. Speaker biography Rachel is an award winning private dentist who has a special interest in aesthetic restorative dentistry. Since graduating from the University of Manchester she has devoted herself to providing and promoting high quality dentistry.
Alessandro Cucchiaro
Engineering Immediate Prototypes
10:00- 16:00
Working in the dental field is certainly not an easy task, especially when dealing with implant dentistry. Planning and teamwork is the key to success, and in this team, the dental technician plays the major role of the engineer. Our role is to lay out the correct bases on which to develop the final product and we do this by creating a blueprint, also known as the prototype. During this presentation, Mr. Cucchiaro will discuss digital dentistry's role in creating a prototype, the importance of creating a prototype, and how to construct a prototype, from the initial situation to the final device.
Grant McAree
The Secret Of Success The Formula for building a multimillion £££ Dental Business
10:00- 16:00
Real world advise from Dr Grant McAree who has sold multiple practices for millions. Grant will share his triumphs and failures with you as well as his formula for building a multimillion £££ Dental Business.
Claire Berry
Introduction to Guided Biofilm Therapy
10:00- 16:00
This presentation gives the delegate an opportunity to learn more about how and why Guided Biofilm Therapy was established as a form of professional prophylaxis. It will provide and introduction to the GBT protocol wheel and why biofilm management using this method can be a good investment for any hygiene department
Andy Davies
Why practice ownership was the right move for me in the middle of the COVID 19 Pandemic
10:00- 16:00
How becoming a principal has changed my career and my everyday working life What I wish I had of known before purchasing The emphasis of team communication and drive The importance of keeping the flame of learning alive How keeping relationships with colleagues, dental lab, engineers is key.
Lecture Theatre 2
What's On Saturday 3 September 2022
10:00 - 16:00 at the Irish Dentistry Show will focus on talks for the wider dental team ensuring we have content, and CPD, for every member of the practice.
Stuart Aherne
A Guide to Digitally Guided Implant Surgery
10:00- 16:00
Guided/navigated Implant surgery is nothing new in Implant dentistry but the digital revolution in dentistry that has occurred particularly over the last 10 years has taken guided implant surgery to a new level, making it easier for the Dentist to provide and ultimately a safer more predictable treatment for the patient. But with all new disciplines it is important to learn the principles of how to provide this treatment and to take baby steps initially before diving in at the deep end. In this presentation I hope to provide you some of those basic stepping stones for this evolving area of implant dentistry
Gemma Forsythe
People-centred Care – Patients with Additional Needs in General Dental Practice
10:00- 16:00
Although some additional support needs patients need to be seen in a 'special care' setting, it is not the case for all. Many of these patients can be seen in general practice and it is important for dental staff to make these patients' visits as comfortable as possible. Before I became a dental nurse, I was a support worker in a care home for residents with mental health problems, autism, physical disabilities and learning disabilities. I think it is so important for the dental team to be aware of disabilities, especially those which are 'hidden'. I aim to provide an insight into caring for these patients and making their dental visit as comfortable as possible.
Abigail Leonard
Paediatric extractions and the role of a dental nurse
10:00- 16:00
The aim of this talk is to highlight how dental nurses can suppose paediatric patients during extractions and how we can use our knowledge and training to educate on the importance of an established oral health routine whilst promoting a healthy balanced diet.
Owen Crotty
Beyond Digital Orthodontics – enjoy the view
10:00- 16:00
Dr. Crotty will discuss how the tools available to treat orthodontic patients have evolved during the digital era. At the same time, it is important to understand how they completement traditional orthodontic principles and the value of treating with a hybrid approach. As the rate of development accelerates, we must remember that what is now "innovative" is likely to become "best practice" at some stage.
Andrew Osafo
The Medical Management of Caries
10:00- 16:00
Are you an informed clinician? The main aim of this presentation is to encourage clinicians to keep up to date with dental products and evidence related to Dentistry. In this lecture Dr Osafo will discuss ways to slow caries progression, arrest caries and restore teeth. Understand the implications of traditional caries management. Recognise the mechanism and rationale for caries arrest medicaments. Understand how glass ionomers play an important role in minimally invasive dentistry.
Invisalign case selection
10:00 - 16:00
Colm O'Loghlen