Kilkenny IDA 11-13th May 2017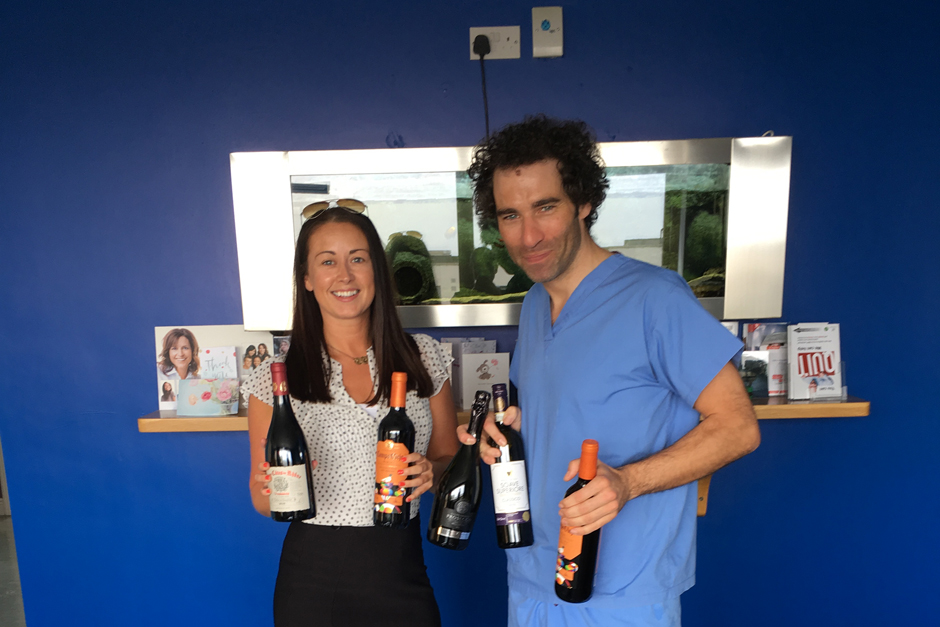 Congratulations to Dr. Nicholas O'Kane from Castle Mills Dental Surgery Balbriggan
for winning our IDA competition. Suzanne presented him with 6 bottles of wine.
The Annual IDA Conference is being held at Lyrath Hotel, Kilkenny 11th-13th May 2017
Come along to stand 19 where Jesse and Luke will be more than happy to show off our products and answer any questions. We also have some very exciting news on a new digital service so join us to find out more.
We look forward to seeing you soon.
CONFERENCE PROGRAMME FRIDAY MAY 12
PROGRAMME 1 MCCURDY 2
9.00am – 10.00am A look at new restorative materials through the lens of proven principles James Kessler
10.00am – 10.45am "That looks like a tooth!" How to make an implant-supported crown look natural Kirk Pasquinelli
10.45am – 11.15am COFFEE BREAK
11.15am – 12.00pm Interpreting radiographs Eric Whaites
12.00pm – 12.30pm IDA governance - an update PJ Byrne
12.30pm – 1.00pm Antimicrobial resistance – whose problem is it? Susie Sanderson
1.00pm – 2.00pm LUNCH
2.00pm – 2.45pm Medical emergencies Joe Omar
2.45pm – 3.30pm Tales of the unexpected Raj Rattan
3.30pm – 4.00pm COFFEE BREAK
PROGRAMME 2 MCCURDY 3
9.00am – 10.00am Getting back to basics – oral surgery Justin Moloney
10.00am – 10.45am Interceptive orthodontic treatment. Is it worthwhile? John Walsh
10.45am – 11.15am COFFEE BREAK
11.15am – 12.00pm The approaching dental tsunami in nursing homes Anne Twomey
12.00pm – 1.00pm When to hold, when to fold Stephen Buchanan
1.00pm – 2.00pm LUNCH
2.00pm – 2.45pm Preparation designs and laboratory communication James Kessler
2.45pm – 3.30pm Evidence-based used of composite resin in dentistry Michael O'Sullivan
3.30pm – 4.00pm COFFEE BREAK
Both programmes will merge for the last two presentations –
two fascinating speakers/topics not to be missed by any dental team member
4.00pm – 4.45pm 10 critical success factors in general dental practice: personal reflections Raj Rattan
4.45pm – 5.45pm Facial reconstruction Peter Butler